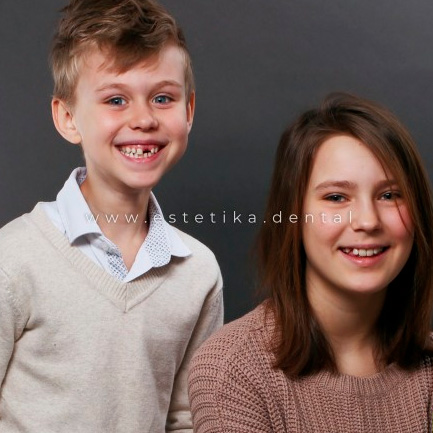 Children's dentistry
from 1000 uah.
We adults are responsible for the health of our children, including the health of their teeth!
To prevent the appearance of pain, incorrect position of the teeth, it is necessary to introduce the child to the dentist from a very early age, or rather, from 6 months.
Specialists of the dental center "Estetika" approach the treatment of their little patients with great responsibility and care. The first visit to the dentist is best turned into an acquaintance. Firstly, these will be painless and not tiresome procedures for the child, which will not leave associations of the doctor with pain in his memory. Secondly, this will give the doctor the opportunity to fully assess the condition of the child's oral cavity and draw up a clear treatment plan.
Do not delay the first visit to the dentist to acute pain! Finding a common language with a baby is much easier when he is in a good mood and nothing hurts him.
In difficult situations, when the child has a large number of affected teeth, when it is difficult to find contact with the child, when it is impossible to perform local anesthesia (presence of an allergy), we perform treatment under general anesthesia (medical sleep). This allows for treatment in one session, minimizing discomfort and eliminating psychological trauma to the child.
Specialists in these procedures:
Frequently Asked Questions
Реставрация молочного зуба - от 700 грн
Лечение корневых каналов у ребенка – от 675 грн
Удаление молочного зуба – от 560 грн
Седация (медицинский сон) – от 1820 грн за час
На первый осмотр ребенка можно и нужно приводить с момента прорезывания зубов (6 месяцев). Первичный осмотр крайне важен! На осмотре доктор может выявить раннюю патологию развития прикуса или наличие вредных привычек у ребенка, которые пагубно влияют на здоровье зубов.
Объяснить родителям о вреде некоторых привычек у ребенка – сосания пальца и соски, ротового дыхания;
Научить, как с этими привычками справляться;
Выявить предпосылки к проблемам (если они есть) и отправить к смежным специалистам – ЛОР, ортодонт, логопед (если есть необходимость);
Обучить гигиене. Ответственность за гигиену ребенка несут родители до 10-ти лет.
Мы рекомендуем:
контрольный осмотр у детского стоматолога каждые 3-6 месяцев;
контрольный осмотр у ортодонта 1 раз в год;
профессиональную гигиену зубов каждые 6 месяцев.
Есть заблуждение, что раз молочные зубы выпадут, то лечить их не обязательно.
Это в корне неверно! Ведь инфекция с молочного зуба может перейти на зачаток постоянного, и последствия могут быть самыми разными. К тому же наличие хронической инфекции во рту пагубно влияет на общий иммунитет и здоровье ребенка.
А раннее удаление молочного зуба в дальнейшем приводит к нарушению прорезывания и смыкания постоянных зубов. Это влечет за собой необходимость ортодонтического лечения, требующего много времени, сил и финансов.
Первую консультацию у ортодонта необходимо провести в 3-6 лет. Если есть тенденция к формированию неправильного смыкания зубов, то ортодонтическое лечение нужно начинать в сменном прикусе, когда есть и молочные, и постоянные зубы.
В сложных ситуациях мы рекомендуем лечение под общим обезболиванием («медицинский сон»).
Это абсолютно безопасно и позволяет провести максимально качественно этапы всех видов лечения за одно посещение и избавить ребенка от психологического стресса.
Возрастных ограничений по выполнению общей анестезии не существует. В стоматологическом центре "Эстетика" мы выполняем детям общий наркоз севофлураном (севоран) от момента выявления необходимости лечить зубы под наркозом, т.е., с 3 - 4 лет.
Самому маленькому нашему пациенту был 1 год и 8 месяцев.